Foundation Repair Contractors in New England
Foundation Repair in Massachusetts and Rhode Island

Foundation Supportworks of New England is a certified Foundation Supportworks contractor that provides locals with solutions to their unstable foundations. We work closely with leading geotechnical and structural engineering firms.
Our highly-trained professionals are available for pre-construction consultations with engineers to discuss projects in greater detail. Once construction begins, we work side-by-side with engineers to make sure residential and commercial projects meet industry specifications and standards.
Foundation Supportworks of New England uses only the latest state of the art equipment and will custom-modify its equipment to meet the specific needs of a client or project.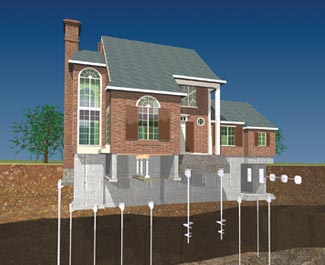 Foundation Repair Services Include:
Underpinning
Helical Piers
Wall Anchors
Tie Back Anchors
Pre-construction Piers
Foundation Supportworks of New England provides remedial foundation stabilization and basement repairs for residential and commercial structures. We maintain the highest standard in delivering quality workmanship with professional service using state of the art equipment.
Foundation Supportworks of New England is committed to provide a safe and efficient repair, while limiting additional damages to the client's property. Our goal is complete client satisfaction by affording all of our clients with top quality repair results, striving to be America's trusted source for a solid foundation.
We serve Massachusetts and Rhode Island. We provide free foundation inspections and no-obligation estimates. We serve Greater Boston, Providence, Cambridge, Quincy, New Bedford, Falls River, Brockton, and Cape Cod in MA. Contact us today and we'll send out one of our highly-trained foundation experts.